Dr. KRISTINA KINCAID
Outrageous Love Letters – In Progress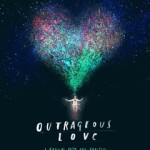 Dr. Kristina Kincaid is the creator of this project. This work is about liberating the capacity of eros and love which lives in every human being through the spiritual practice of outrageous love letters. The practice emerges from the mystical Song of Songs traditions, which itself is, a specific form of outrageous love letter. Kristina, together with other members of the community, have engaged and developed the practice of "Song of Song Outrageous Love Letters" based on the sacred tantric principle of Eros being the central quality of reality. An outrageous love letter accesses Eros, is fully personal and yet radically transpersonal at the same moment.
God Is Eros – In Progress
Beginning with Creation and the Big Bang that manifested our Universe, the reality of the cosmos has been and is Fuck. In every moment, the moment, the situation, the idea, the encounter, the reality is either Fucked Open to God, or you are Fucked Open by it. Or, both you and reality remain closed. We either received the Divine Fuck or Fuck the Moment Open to God. If we open and the moment opens then we are radiant, alive, filled with Eros and incarnating Ethos. If either we or the moment remain closed, then we are alienated, deadened and alone. Eros shrivels up and therefore Ethos fails. The essence of reality is Fuck. God is not merely Oneness. God Is – in manifest form – Fuck. God is Fuck.
Books in Progress:
Outrageous Erotic Love Letters
Outrageous Acts of Love
Outrageous Tears-The Evolution of Tears
How to Write Outrageous Love Letters
Outrageous Love Letters Workbook-Daily Writing Practice
100 Most Outrageous Love Letters
100 Most Outrageous Erotic Love Letters
Outrageous Love Letters From Kids /Teens / Pets
Outrageous Love Letters to God
Outrageous Inspiration From Outrageous Lovers
Awakening Your Outrageous Lover-A 30 Day Practice
365 Days of Outrageous Love Calendar